I did find myself as starstruck around Holly Black and Kelly Link for the last two weeks as I was around Chip Delany or Joe Haldeman earlier, and I've since done a lot of thinking about why that could be. I've been reading Delany and Haldeman for almost a decade now, and Black and Link for just a few years. The big difference would be: they're closer to where I am in my writing career: ten to fifteen years ahead of me instead of thirty to fifty. Kelly Link attended Clarion as a student eleven years ago and made her first
Asimov's
sale while she was there ("Flying Lessons" I think). But even so, I would think that accessibility and my "as much as they are mentors they are also my incredibly successful peers" mentality would have more of a calming effect. So maybe by week five and six I was out of my skull and I would have been as starstruck around a polka-dotted tea kettle. We'll never know.
That said, my meeting with Holly earlier in the week was great. We discussed writing comics vs writing prose (she's working on her first graphic novel now). She wanted to know why I wasn't writing novels yet (I actually hope to write the first draft of my first novel by the end of this year). She wanted to know why I was writing science fiction when I should be writing fantasy (I write both as well as stuff outside the genre, but she was correct that a lot of my science fiction is fantasy dressed up like science fiction).
And my meeting on Friday afternoon with Kelly went so well that I'd feel weird about sharing what we discussed publicly. At least not before the revolution which we may or may not be orchestrating and which may or may not involve voting rights for spatulas. I did learn that her press (Small Beer) has published a collection by Richard Butner (
Horses Blow Up Dog City & Other Stories
, which I'll be reading through next week), who lives in Durham, probably not 30 minutes from me. Another cool person I should probably meet.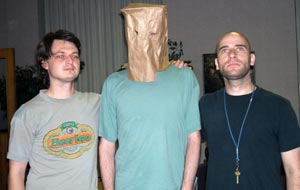 Now, one of the ways my social anxiety manifested itself at Clarion was how much I fretted over whether I was leaving positive vs negative impressions with all these people I respect (this ended up including my fellow Clarionites as well as the authors-in-residence). So if an author like, say, Nancy Kress, remembered my name, it would be in a positive context rather than as the name of someone against whom she needs to exact revenge because of a sour chess game.
And I thought I was doing well with Kelly and Holly through Friday afternoon. Putting any hope of networking aside, Kelly and Holly are cool, interesting people who I would like to hang with again. And I figured so long as I didn't say or do something irretrievably stupid in my final hours with them on Friday night, I thought that might actually be a possibility. Hell, WisCon was already high on my list of conventions I wanted to attend; now that Kelly has told me how reputations are made or broken in karaoke there, I think I
have
to go. I'm still a better singer than I am a writer...
But wouldn't you know it, we finished the night with games of
Mafia
and Thing. During Mafia I apparently played so "well" (meaning: obnoxiously?) in the first two games that Kelly said she had one goal in the third and final game: Kill Alex. There was a lot of swearing involved, and she got her wish. I was dead in the first round. Then, because something about the peaceful image of an unburnt bridge seemed off to me, I made Holly scream during the first game of Thing.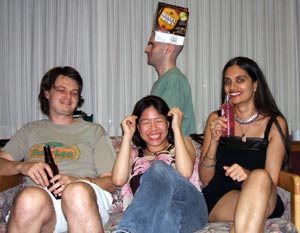 In some ways, I'm flattered. Not only do I stand a good chance of them remembering my name, but Kelly even remembered my story about Nancy Kress vowing after our chess match how
I would lose a major industry award by one vote
. But then, in context, long after I was dead and Kelly was winning the Mafia game, when Kelly yelled across the room: "Two votes! You'll lose by two votes!" I wondered whether it would have been better for me to not have come to Clarion at all...
I think it was all in good fun, that if Holly and Kelly aren't kidding, then they still probably
aren't
going to spend too much effort crushing any hopes I have of a career (see
this thread
; it does sound more playful than sincere, yes?). But if anyone reads this, attends WisCon, and sees me get invited to play Mafia, Chess, or Thing...
stop me
. No good can come of it.
Almost done with this posting-pretending-that-Clarion-isn't-quite-over. But next week will be tougher, when I start admitting how much I miss these people I've grown to care about. More Clarion Mafia photos
here
.
Filed under Clarion, Journal, Pretty Pictures, Prose and Poetry
Comments:
Discuss this entry at LiveJournal
by Alex Wilson. This is from an online journal/blog I kept from 1998-2009. Back to alexwilson.com.