Christopher James Bishop 1971-2007
April 17, 2007

My friend is dead. Jamie Bishop was a photographer, multimedia artist, and German professor at Virginia Tech. He was among those killed in his classroom on April 16, 2007.

He moved to Blacksburg from Carrboro in 2005. We used to meet at his place or at Weaver Street to trade foreign films and comic books. To talk about art and about changing the world with art. He took the photos for my presskit. He was a Telltale contributor. We'd been talking for three years now about collaborating on a comic. His digital art style was in the vein of Dave McKean (see his book covers for Michael Jasper's Gunning for the Buddha and Michael Bishop's Brighten to Incandescence) and we both wanted him to try his hand at sequentials.

But he was meticulous. He wasn't going to do something unless he could give it the time to do it right. And the proof is in the work. Here's his online portfolio including some kickass photo galleries. My favorite thing he's ever written was this blog entry from 2005. He said it took him two hours, which explains why he gave up blogging.

He liked Carrboro, but I think he loved Blacksburg. Owning a home. Teaching. Last month he was applying for an MFA program in photography and graphic design at Radford, which he'd been talking about at least since January 2006.

In december he emailed me some photos of a coffee table he built, "composed of 72 different wooden tiles that I cut and individually painted." He called it one of the most creative things he's ever done. I'll leave them with you.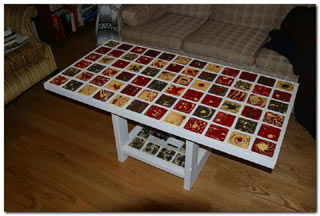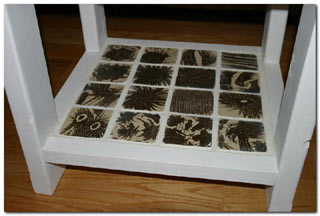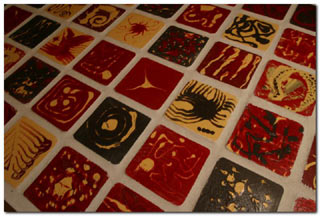 Our thoughts, prayers, and love to Steffi and the rest of his family. I miss you, man.


by Alex Wilson. This is from an online journal/blog I kept from 1998-2009. Back to alexwilson.com.